Canoe, Kayak, and Boat Rentals
While you enjoy your vacation, take an adventure across the beautiful waterways of Maple Mountain Country on Lady Evelyn Lake. Mowat Landing Cottages offers motorboat Canoe and kayak rentals in Ontario for those looking for a fishing trip, canoeing adventure, hunting trip or just a relaxing day on the water. Explore Lady Evelyn Lake from shore to shore with a motorboat, kayak or canoe. Go at your own pace at your own time, for just a few hours, for the morning, afternoon or for a full day trip.

Around Lady Evelyn Lake you'll find gorgeous scenery and crystal-clear waters, with wide-open acres for exploring. Park your canoe or kayak and climb the second-highest peak in Ontario. See the fire tower on Maple Mountain as you make your way through the forest. On the lake you can catch a glimpse of a majestic moose and see flocks of geese on the water. Go out at sunrise to start your fishing trip early or make time to explore all of the lake's wonders. You can make your eco adventure whatever you want it, from a magical and leisurely trip around the lake to a fast-paced paddling and hiking expedition through the wilderness.
Book your relaxing vacation in the Canadian woods at Mowat Landing Cottages. Visit the special packages page to see deals all year round for canoeing, fishing, hiking, ice fishing and more.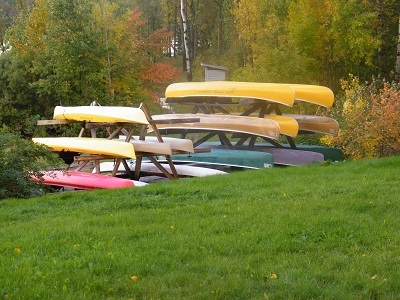 CANOES:
– 16′ fiberglass (63lbs)
– 16′ kevlar (42 lbs)
– 17′ kevlar (46 lbs)
-17'9″ kevlar (49lbs)
All rentals come standard with paddles, life jackets and safety kits.